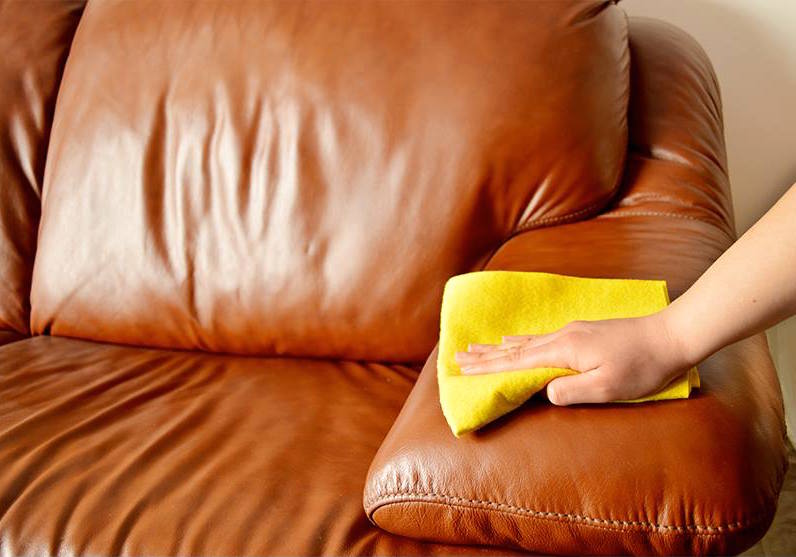 Regular Cleaning and Care Helps Increase the Life of your Leather Furniture
Leather is one of the most durable, low-maintenance upholstery option for your furnishings. In order to keep your leather furniture looking beautiful and increase its lifespan, regular cleaning, once every three months, is necessary. Follow the steps below to keep your leather furniture looking like new.
Caring For Your Leather Upholstery
For daily cleaning, normal dusting with non-abrasive cloth and vacuum, helps maintain the leather
Every six months, depending on the usage, deep clean all leather surfaces.

Apply the certified Stanley leather shampoo using a clean and absorbent cloth/synthetic sponge. Gently apply it over the leather in a circular motion.
Wipe off the shampoo with a wet sponge then clean the leather surface with a dry cloth (nonabrasive).
Once the surface of the leather is dry, apply Stanley's leather protection cream with a soft cloth to help repel staining and soiling of your leather. It will also keep the leather soft and supple.

Certain high-end/premium leather, namely, Montana, Tuscana, Vintage, Rustical should only be dry-washed, no chemical or water should be applied over the leather surface.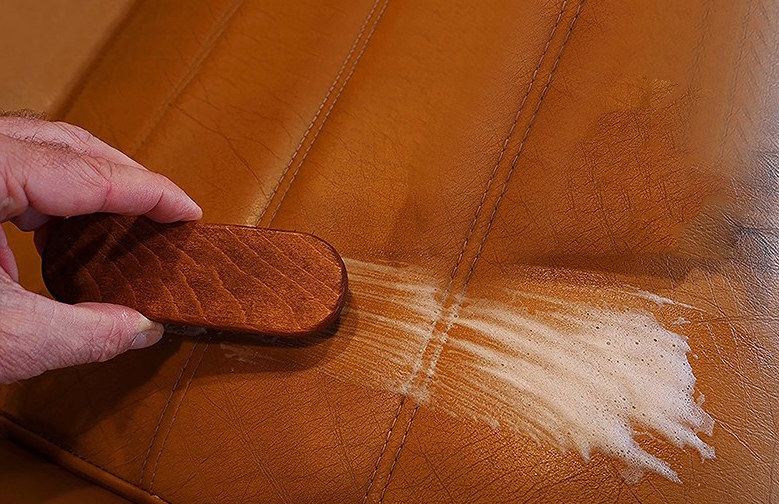 Use Stanley Leather Shampoo to Clean the Leather Surface
Spills, Spots, and Stains
Like most upholstery, leather is sensitive to spills, especially liquids, so they should be removed from the surface as soon as possible to keep them from soaking in.
Some stains such as ink marks and lipstick marks can be eliminated using Stanley's ink remover. This is the only ink-remover of its kind available in the market. If the stain is more stubborn, apply the ink remover 1-2 times a week and the marks should fade away slowly.
| | |
| --- | --- |
| | |
| *Stanley Leather Care Kit... | ...Best for taking care of your leather furniture |
* The Stanley Care Kit includes a Soft Cleaner to clean your furniture, a protection cream that resists dust and debris, and an Ink Remover which is great to remove tough ink and other stains
Avoid Commonly Recommended DIY Cleaners
When it comes to cleaning leather upholstery, avoid DIY remedies. Leave the homemade solutions using mayonnaise and vinegar to sandwiches, not cleaning your leather.
Use of any other chemical or abrasive materials for cleaning leather must also be avoided. Detergents, washing up liquids, household cleaners, furniture polish and solvents, such as petrol, gasoline, white spirit or alcohol, should not be used on leather. While these products may give an initially impressive appearance, their use will lead to rapid deterioration of the leather and will invalidate the warranty of the product.
Keep It Stylish and Classy
Leather Sofas gives your home a classy and comfortable look. Follow these tips and tricks and increase the life of your sofas. Reach out to us if you need more information or clarification. Happy Cleaning!
To order your Stanley Cleaner Kit, call us at +91 33 4004 8900 & 98319 13000 or email us at info@mirania.in